The Interwar Period
The Interwar Period – first efforts to set up a higher medical school in Lodz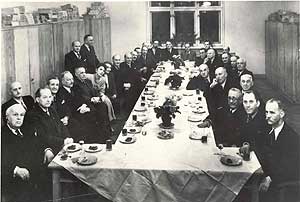 The idea of establishing Higher Medical Education in Lodz dates back to the interwar period, when the medical community of the city of Lodz started making a definite effort to set up a higher medical school. Completion of this enterprise was of crucial importance to the city, which despite having over 60,000 inhabitants, did not have a university to train medical professionals at that time; the only higher education institution being the Lodz Division of The Free Public University of Warsaw and the Higher Seminary.
The clinical activity of higher medical school could be based on medical specialists and physicians belonging to the Medical Society of Lodz, formed in 1886, and the Lodz Division of the Warsaw Hygienic Society, founded in 1901. The fruit of these labours, performed since the second half of the 19th century, was the foundation of prophylactic institutions such as orphanages, sanatoria, maternity units, as well as diagnostic and treatment centres such as hospitals and outpatient departments.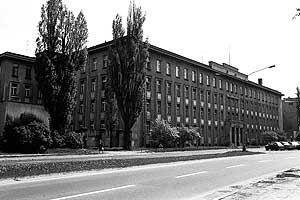 In the interwar period, two medical institutions were created: the 635-bed Health Fund Hospital, at its time most modern in Poland and at present the Norbert Barlicki Memorial University Teaching Hospital No.1,as well as the 400-bed Regional Military Hospital, at present the Military Medical Academy University Teaching Hospital. Unfortunately, the Polish government's financial problems resulted in the whole venture being postponed. Thus, a demand was made to launch a medical university maintained by social donations, municipal authorities, and The Ministry of Social Welfare subsidy a concept heartily approved by an acknowledged physician of Lodz, Prof. Wincenty Tomaszewicz. On 10th December, 1938, he initiated the Organization of the Higher Medical School in Lodz led by the Bishop of Lodz, Dr Kazimierz Tomczak, on whose initiative a decision was undertaken to immediately start building Alma Mater in the city. Thanks to the endeavours of that society, The Ministry of Social Welfare guaranteed a sum of 2 million zloty for this purpose.
Education of the medical staff was supposed to take place within the Faculty of Medicine, which would be a branch of the Poznań University. The first official immatriculation was scheduled to be held in the autumn of 1940. Alas, all these actions were not finalised because of the outbreak of the Second World War.
Source: 65 years of Medical Higher Education in Lodz by Piotr Machlański and Jerzy Supady